More than a year ago, I have shown you on how to
replace the Google text logo with any names you like
. Well, the trick is pretty old now. So, it's time to learn a new trick. This time you will learn on how to
replace the logo on Google homepage with your favourite Google Doodle
.
I believe everyone is familiar with the Google Doodle (also known as the
Google Holiday Logo
). Our big brother Google has been dressing up its logo for festive occasions since 1998. The first Google Doodle was the Burning Man Festival of 1998.
Favorite Doodle
is a new Greasemonkey script that allows you to
replace the
boring
logo on the Google homepage and search results page with your favourite Google Doodle
. Since we are going to use a Greasemonkey script, this method is applicable to Firefox only.
First, install the
Greasemonkey
extension on your Firefox browser if you don't already have. Restart your browser after the installation. Then, install the
Favorite Doodle
script.
Now, go to Google.com. If the Google logo has changed to Google Lego logo, it's mean that the script is working fine.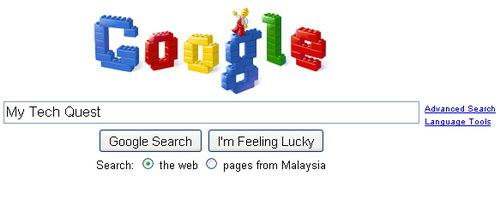 Next, pick the Doodle that you like from the official
Google Doodle Gallery
. I hope you don't have hard time to pick one as your favourite Doodle. I know, most of the Doodles, if not all, are simply great.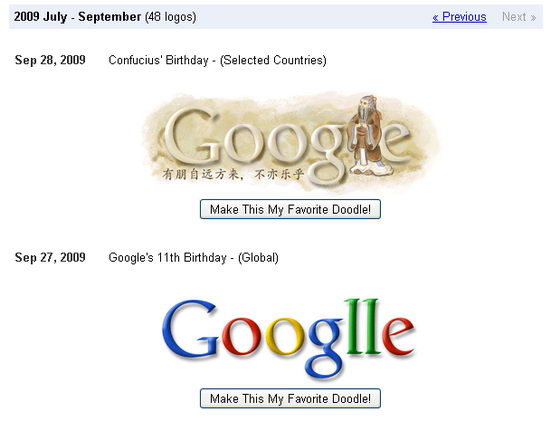 Once you have made a choice, simply click on the "Make This My Favorite Doodle" button under your favourite Google Doodle to make the Google Doodle permanent on the Google homepage.
So, will you still see new logos on holidays? Don't worry, you wouldn't miss any single new doodle on Google homepage. Whenever a new Google Doodle is shown, your favourite doodle will be replaced by the new doodle for that particular day. After the holiday, your favourite doodle will be displayed again.
However, if you want, you can disable new Google Doodle from showing. Simply select "Favorite Doodle -> Always show my favorite doodle, even on holidays" option from the Greasemonkey "User Script Commands" menu.